TOGETHER WE MAKE THE INVISIBLE VISIBLE
EMPATHY IS THE ESSENTIAL SKILL IN MY WORK
Every (potential) assignment starts with a conversation with my client, to ensure I really get the picture of what the visual should convey.
In order to grasp the essence and see the bigger picture, I always start of with a conversation with my client. I want to really understand what you need, want, what the purpose of the work is and what motivates you to have something visualised.
Preferably I also involve my clients in the creation process because I have seen this brings out the best results.
The creative process is like a silent empathic conversation between my client, speakers, authors, the audience and my markers and heart.
For as long as I am sketching, drawing, designing, or creating a graphic recording, I do not stop empathising with all the stake holders involved in the work.
Every person who contributed is part of the creation and I see it as my responsibility to 'speak up' visually for each of them. I like my work to be a visual reflection of what was meant to be said.
Often visual summaries are created in A3 format. I employ my graphic design and visual communication skills as well as skills to reduce the complexity to the essence of the message.
The conversations I have with my clients are an important part of my work, to ensure what we create is serving, relevant and meaningful. Visual summaries and infographics can explain complex information, contain multiple visuals and various amounts of text. The content is either based on the summary of my listening to my client's words, or it is based on text documents from which I retrieve the essential elements and come up with a concept and visual proposal. In collaboration with my clients, we define the final content after which I create the final version of the visual summary.
Visual summaries are typically created from scientific reports, master thesis, strategic visions, summary of a conferences, webinars, trainings or lectures.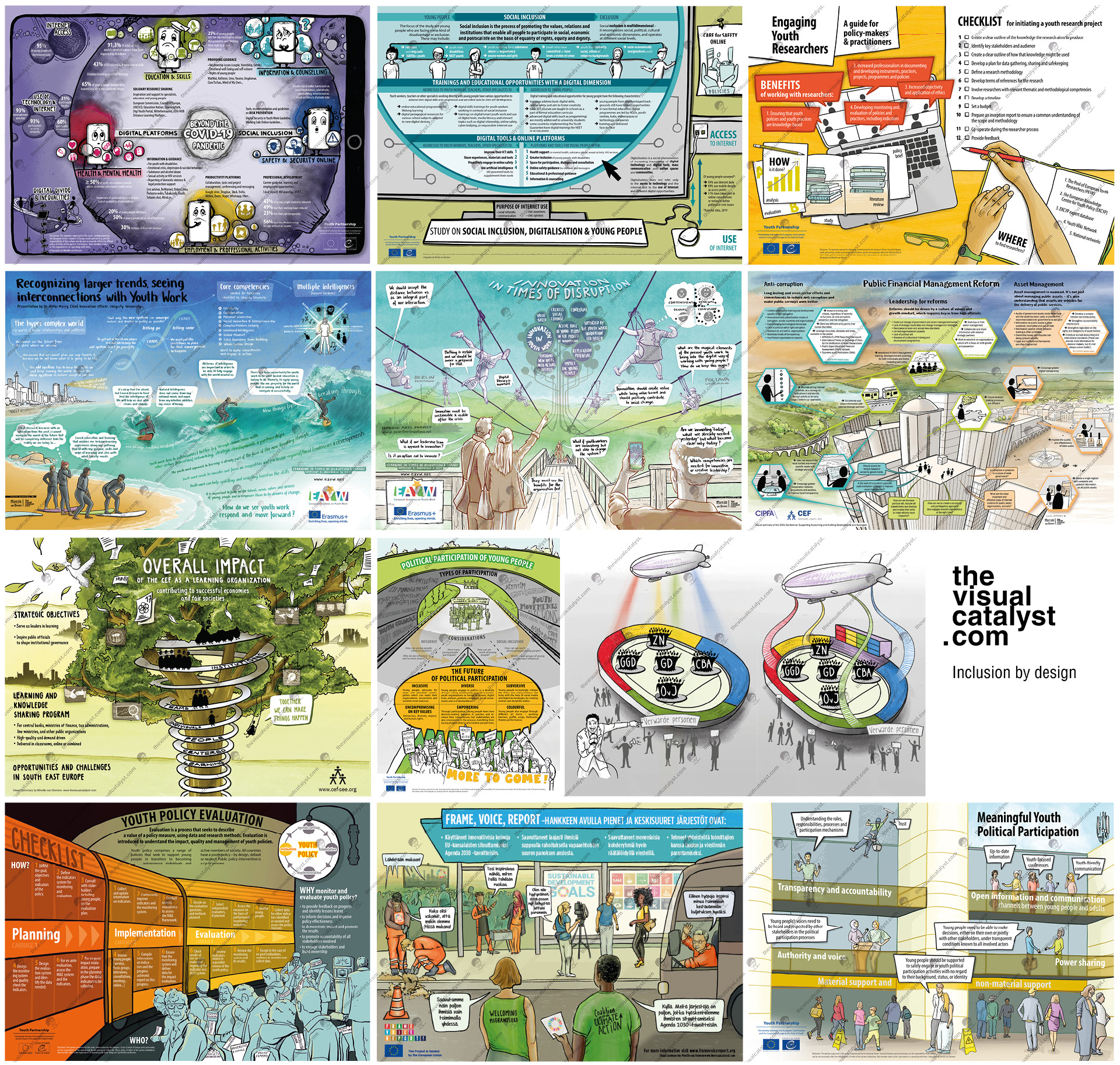 Though I prefer to work live, with paper and markers, I also work digitally as a graphic recorder. Depending on the purpose of the work, I believe that graphic recording during a live virtual can happen both visibly as invisible for the audience. Having the graphic recorder present in the background, harvesting the pieces that are used in a series of visuals (see first example) or combined in one overview, may offer a chance to increase value, output and serve a higher or different purpose.

Large sheets of paper, markers and a wall. The basic tools for graphic recording, which in my view needs high listening skills, technical visual skills and multiple other skills that help translate words into images, text and layout. The dimensions range from 1 by 1 meter up to lengthy walls. Most of them are 2-2,5 meters per piece, but long ones can stretch for multiple day events. I work mostly in English and Dutch, sometimes in Slovene, and can also collaborate with translators in other languages.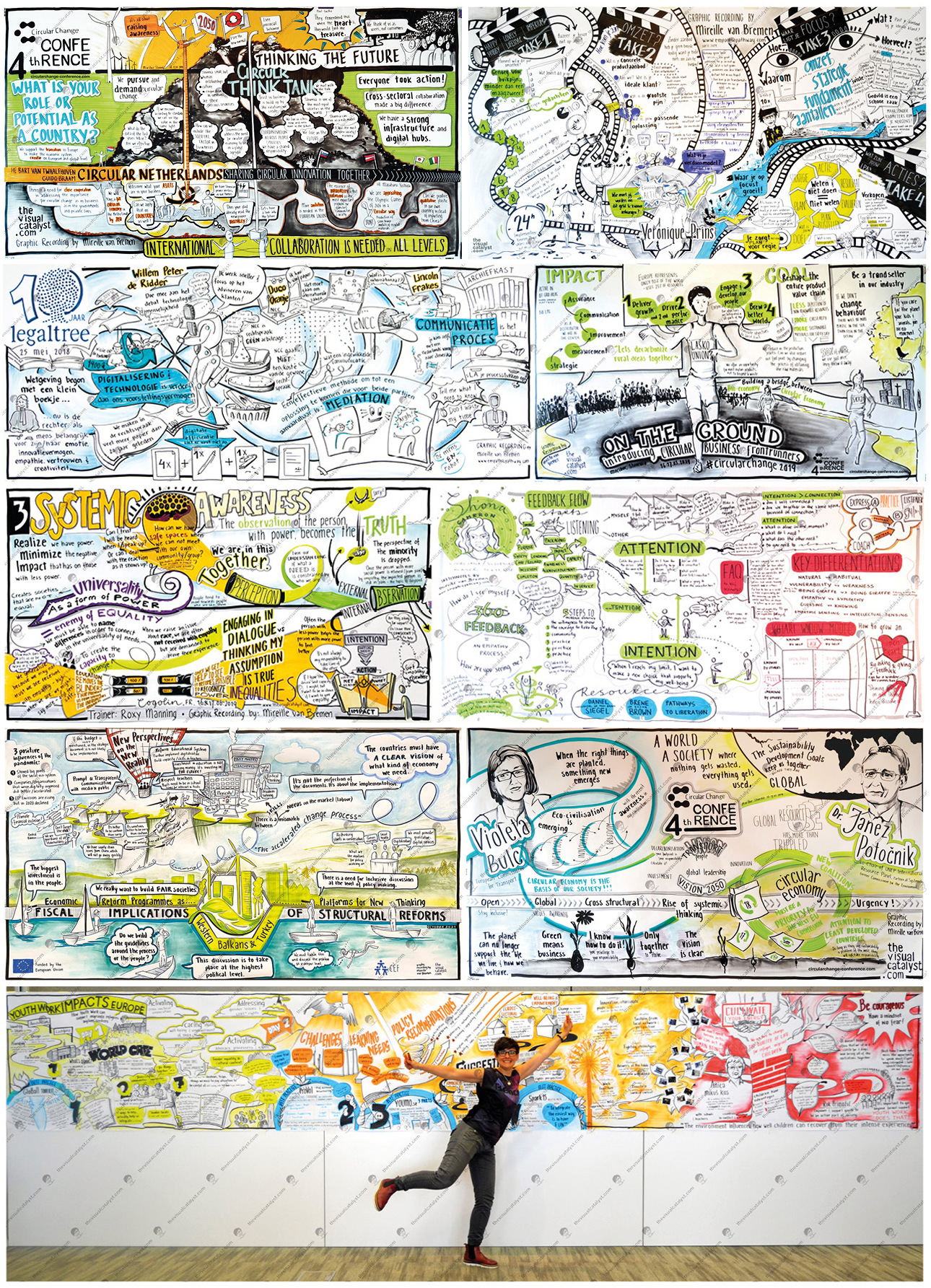 Learning maps are the result of my listening and visual note-taking during training programs. After I've listened, I structure the content, draw models, and come up with visuals and visual metaphors to convey the meaning of the text. Meanwhile I compile the content in a map that gives a clear overview of it all, helping users see how everything fits together and which relations exist between parts of the content.
The purpose of these learning maps is to increase the integration of the content after the training and supports future participants during and after the training. The trainer can be provided with visual content for presentation slides, workbooks and other (marketing) materials that help increase the impact of their communication, quality of the content and training. Learning maps are particularly interesting for repetitive programs. Learning maps are an investment and therefore serve well for re-occuring programs and for large audiences and are a graphic recording service.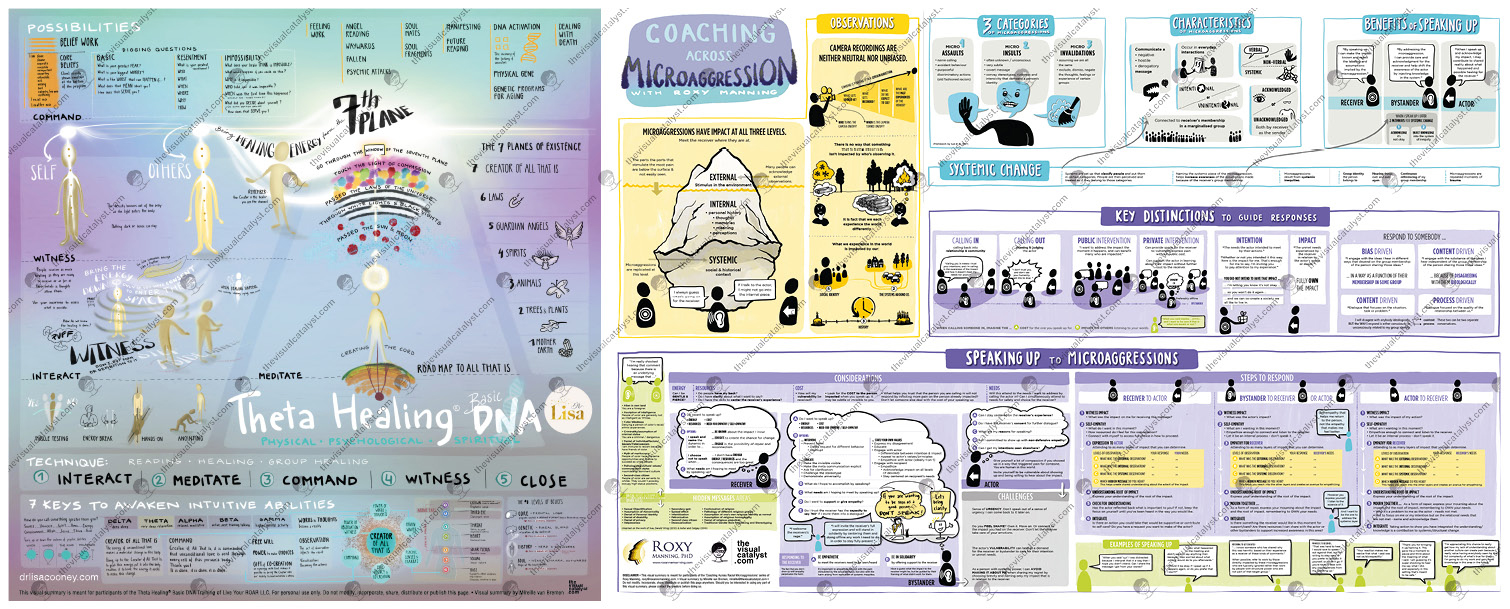 ARE YOU THINKING OF CO-CREATING WITH ME?
In which languages do you do this kind of work?
Dutch: native proficiency
English: full proficiency
Slovene: sufficient proficiency
German: basic proficiency
Other languages: basic documents Dutch, English or Slovene, following documents from translations into other languages.
Do you work internationally?
Absolutely! I love travelling and I also work online.
visual mediation • visual conflict coaching • graphic recording • graphic facilitation
visions • strategic directions • visual summaries • learning maps •

infographics
Follow me in your favourite network
Policies

Privacy policy
Disclaimer
General Terms of Use
Cookie policy