"Visual empathy brings the speaker and the audience on the same page, like a mediator helps two parties understand each other."
Visual Empathy Trainer and Coach
Graphic Recorder,
Illustrator, Designer
Conflict Coach & Mediator
"Our visual voice matters because the visual empathy we express with it, leads to shared understanding and helps us attune to the audience we communicate with."
I believe we experience more harmony in our communication and have more synergy in collaborations when we get on the same page with ease. Empathic communication is incredibly powerful in creating connection and emotional wellbeing. It helps us establish and maintain trust in our relationships and learning experiences. 

Visual Voice, Expression & Inclusion
The element that is frequently missing in our communication, is the expression of our visual voice. Most people who could have taught us in the past how to express ourselves visually, didn't have the skills themselves. The systemic construct of many parts of our society uses communication and educational approaches that in general don't stimulate empathy and visual expression in our communication and/or are hardly visually inclusive in learning environments.
My years of experience in the field of visual communication as a design department leader stimulated me to learn and integrate empathy in my work. For the past ten years I have been intensively trained in Nonviolent Communication (NVC), and NVC based mediation and conflict coaching. In my Visual Empathy Courses I bring these two fields together because I experience how much empathy helps us understand the audience we communicate with and how visual expression increases the efficacy of training and development activities. This increases both the relevance as the impact of learning experiences.
To articulate the essential skill participants develop through my courses, I came up with the term 'Visual Empathy'. I define it as 'the visually attuned expression of our understanding, expressed with the intention to create connection with ourselves and others'.
My shortest definition of visual empathy is
"a visually attuned expression or response, expressed with the intention to deepen our understanding and create connection."
Do you feel intrigued reading this, because harmony matters to you too, and you like to be effective in helping your audience develop their empathy skills?
Click on the orange button to start exploring the first steps in visually attuning your facilitation and communication to the audience in your training program.
 What you would know, if you'd really know me …
Because I am empathic and lead from my intuition, I am often aware of unspoken intentions and power dynamics.
This makes it easy for me to put my finger on the sore spot and make the invisible, visible.
Sometimes it is confronting for people that the clarity I provide, reveals something about their own impact and responsibility in a situation.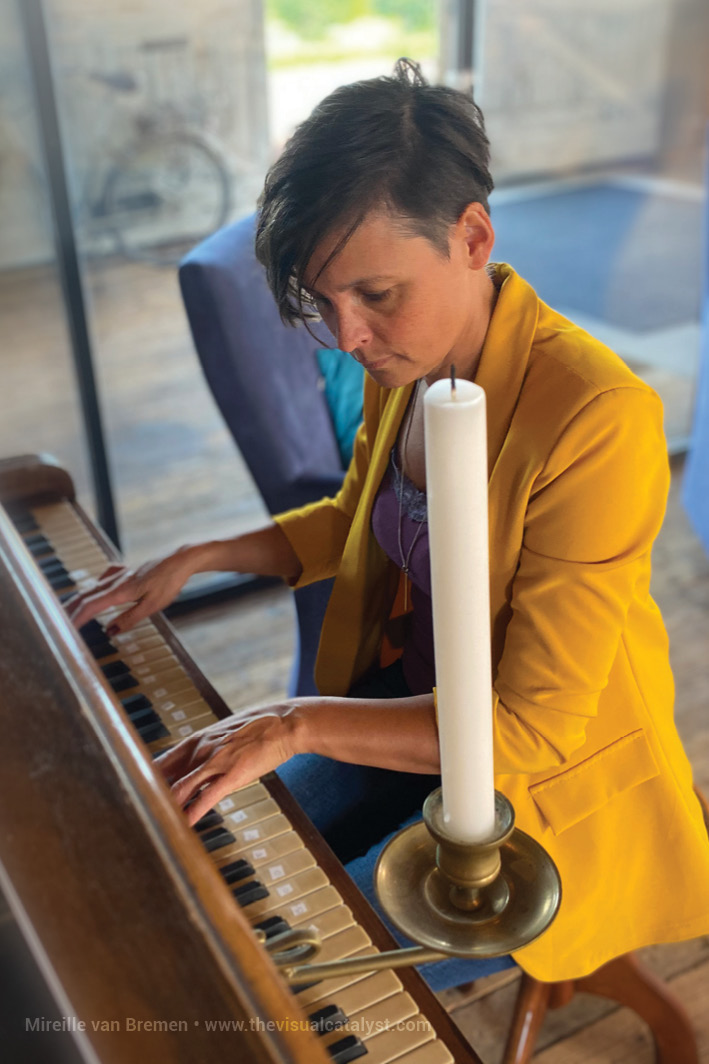 Hi, I am Mireille van Bremen!​
◉ I am a Dutch national with Asian roots and live in Slovenia for 15 years. I am a mom and co-parent of a teenage son who lives with me every other week. 
◉ Besides many creative activities, I love improvised vegan cooking with my home grown veggies. I enjoy mountain biking, hiking and daily self-connection practices or simply spend time in silent solitude.
◉ Some fun facts 😊 I have a strong need for visual harmony and am a color freak. I paint as a meditation practice. Depending on the culture or religion, my name Mireille means 'to look', 'to admire', 'peace' and 'miracle'. 
◉ I am keen in simplifying my daily life and I love that for most of my activities, my office fits in a backpack – well, except for when I bring training equipment along for my participants 🙂
◉ To experience more autonomy and flexibility in my work and private life, I switched from working as a design department leader to working more location independent as a trainer & coach, an illustrator, designer and graphic recorder. Since 2022 I also work as a conflict coach and mediator in another business, The Empathic Mediator.
◉ Since 2015 I create, design, build and facilitate courses in my online academy and offer in presence training in various countries. All my courses, webinars, training video's and workshops are visually supported with a combination of flipcharts, visual tools and digital presentations. It's simply how I communicate … I often hear that is so helpful, clarifying and fun. Would you like to experience that too?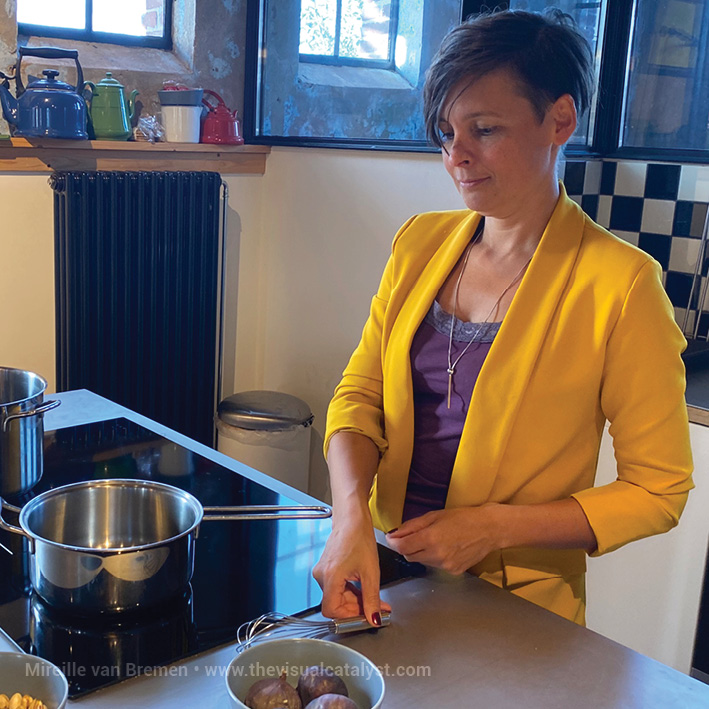 Visual Empathy Trainer and Coach ◉ Conflict Coach & Mediator ◉ Graphic Recorder, Illustrator, Designer
Bachelor in Arts (Illustration) of the Willem de Kooning Academy of Art, Rotterdam, NL
Bachelor in Visual Communication (Graphic Design) of the Willem de Kooning Academy of Art, Rotterdam, NL
Training in (online) marketing & course design
Over 150 days of training in Nonviolent Communication, conflict coaching & mediation

3 years BayNVC Leadership Year Program (participant & assistant)

Training in Empathic Coaching
Training in Participatory Leadership
Training in the Art of Hosting
Training in Awakening Coaching Basics
Theta Healing Basic DNA Practitioner
Genos Certified Emotional Intelligence Practitioner
Facilitate trainings, conversations, meetings, workshops, …
Empathic listening
Capture the essence of a story, conflict, idea or plan with striking clarity
Visualise the bigger picture of ideas, concepts, models, processes, visions, plans, etc.
Generate new value & tons of ideas
Reduce complexity to what truly matters
Make the invisible visible & tangible
Graphic Recording, Visual Translation
Art direction, Graphic design, Illustration
Conflict Coaching & Mediation
(Online) Marketing & Business
Leadership
7 years owner of The Visual Mediator – training, coaching and visual communication services – based in Slovenia
Conflict coach & Mediator at The Empathic Mediator
9 years Head of Design & Art Director in an internationally operating advertising agency in Slovenia
5 years owner of Studio LiEF – graphic design & illustration studio based in The Netherlands
Trained hundreds of trainers, coaches, facilitators, leaders, designers, project managers, lecturers and teachers in developing their visual empathy skills
Supported many entrepreneurs in being more impactful with their marketing & communications
Created countless graphic recordings, visual summaries and other visual representations & illustrations
Visual communication

Empathy

Graphic recording

Training

Coaching

Facilitation

Nonviolent Communication

Mediation & Conflict Resolution
Internationally
Live
Online

Dutch (native)
English (professional)
Slovene (professional)
German (basic)
Any other with simultaneous translation
Organizations already working with me