PARTICIPANT AND
CLIENT EXPERIENCES
Certified
Nonviolent Communication trainer, France

PARTICIPANT VISUAL EMPATHY TRAINING
"Today preparing my work sheets in handwriting using some drawings I had a lot more fun preparing this. I celebrate how much this training enriched me and allows me to consider training preparations more fun and more effective."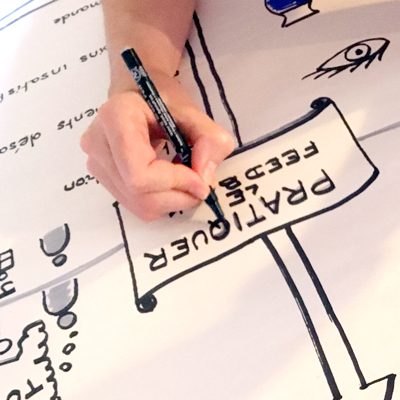 Certified
Nonviolent Communication trainer, France

PARTICIPANT VISUAL EMPATHY TRAINING
"Thank you for the 'step by step' processes because everything seems easier and accessible. Great joy to learn together – thank you to be in connection with our values (Nonviolent Communication)."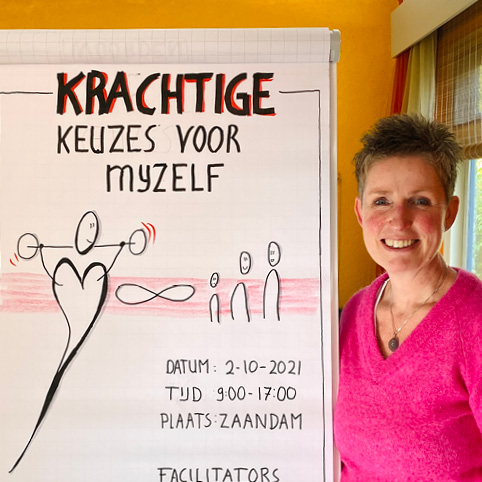 Nonviolent Communication Practitioner & High Care Pediatric Nurse, Intensive Care Children, UMC Amsterdam
PARTICIPANT VISUAL EMPATHY TRAINING
"What helped me the most by attending Mireille's training is how you can get visual insight into your target group you want to work with and how to overcome the obstacles in my mind to start drawing. I now enjoy my newly developed skills very much. Other than that, this training is designed very well. Mireille could not have put more into these two days. I don't know what could be improved. In any case, I am still grateful to Mireille every day."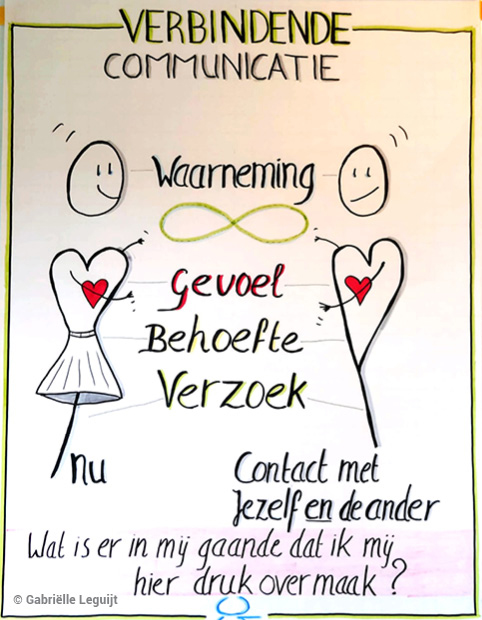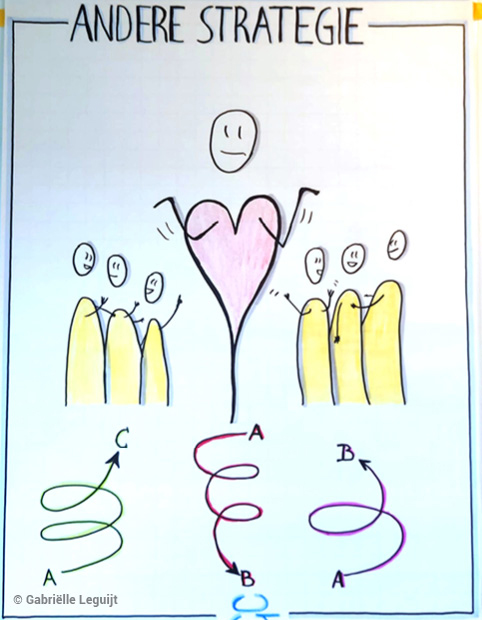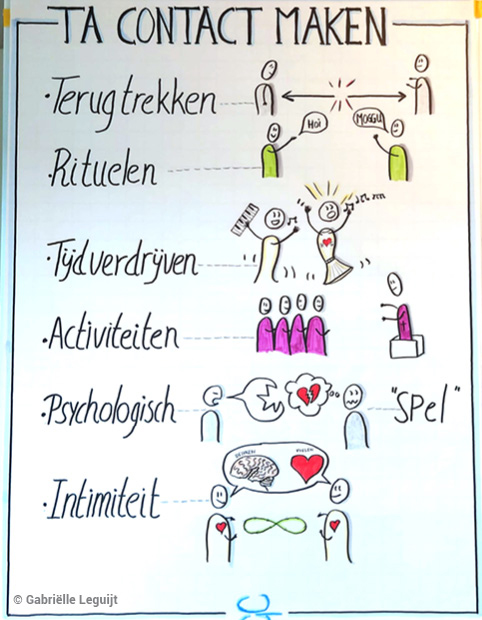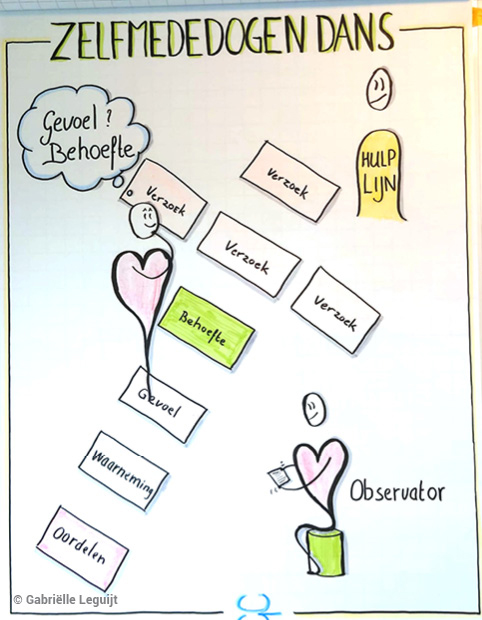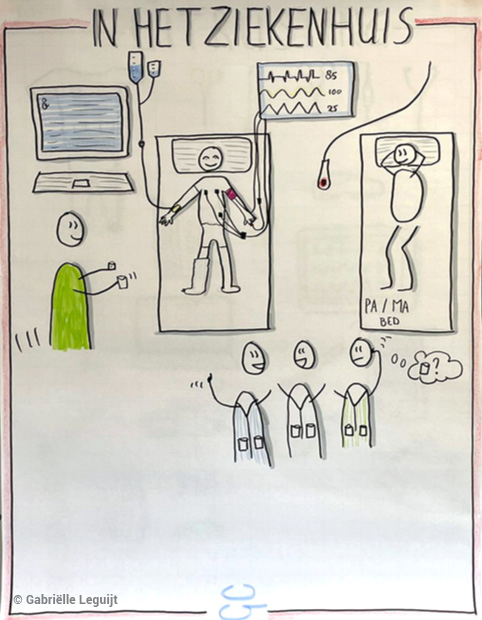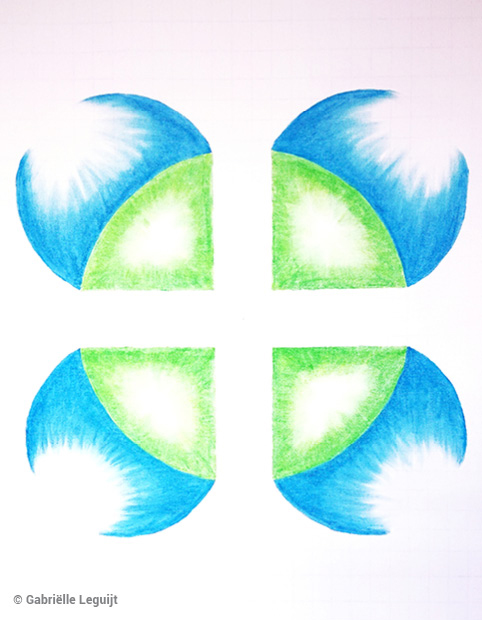 business coach, The Netherlands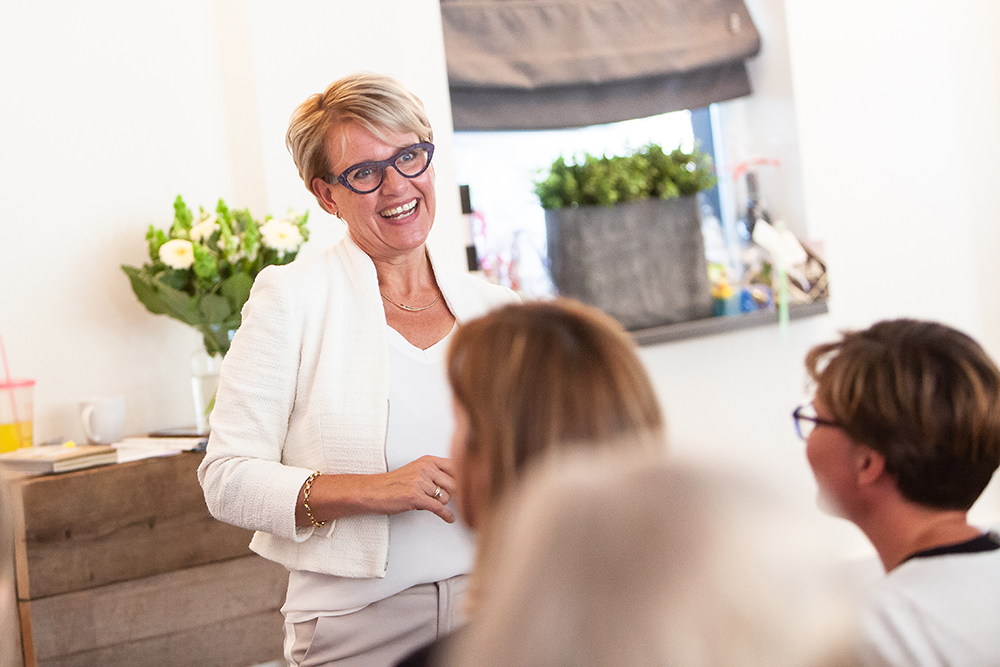 "I am known as a 'chatterbox'; I talk fast, I talk a lot, and am passionate about sharing as much knowledge as possible. Because it is 'lots' and 'fast', not everyone can keep up. I like visualising my examples too, but they remain mere words, and are never as powerful as images.
Therefore Mireille made a graphic recording of a 4-day summit that I organized. After every hour of training, Mireille published its visual representation.
This way, two things happened. Now participants could see in addition to hearing my words, suddenly some extra pennies dropped; often making them understand even better what the training had been about. Because Mireille made it visual, participants could not only understand the training better, they also remembered more.
It made an already powerful training even more valuable for my participants, during but also after our meeting."
director of corporate communication, Slovenia

PARTICIPANT VISUAL EMPATHY TRAINING
"Mireille is not only a great expert in visual communication, but is also excellent in transferring her knowledge to the participants of her workshops. The special value of her workshop Clear & Impactful Flipchart Presentations is is that one gets a lot of useful tips as well as learns the basic principles of visual communication that are helpful not only in preparing flipcharts but also other elements such as powerpoint presentations, advertisements, posters, etc. It is amazing to see how, by following her tips, a flipchart comes to life in a completely different way."
trainer, facilitator & learning consultant, Slovenia

PARTICIPANT VISUAL EMPATHY TRAINING
"I had the pleasure of learning from Mireille and later working with her when our roles were reverse. I haven't truly understood the impact and usefulness of visual facilitation until I attended her workshops as a client. It is her primary nature to think in pictures and it is mesmerising to see her in action. She is highly skilled in facilitating that, coupled with her innate ability to tune in to needs and feelings of others and connect with them on a deeper level, make her programmes highly engaging, useful and well worth attending."

PARTICIPANT VISUAL EMPATHY TRAINING
trainer & coach, Slovenia

PARTICIPANT VISUAL EMPATHY TRAINING
Certified Nonviolent Communication
trainer, coach, musician
GRAPHIC RECORDING
GRAPHIC DESIGN
"All through the process of working with Mireille on several projects I have been impressed and delighted by what she brought in terms of skills at the level of content, very high reliability, ease of working together, creativity and empathic presence."
nonviolent communication facilitator, Vancouver, Canada

PARTICIPANT VISUAL EMPATHY TRAINING
"Mireille's 2-day workshop changes everything! Now I can see how to add clarity and interest to my workshop materials, using her clear guidelines, her visual templates & her visual elements. What's more, I can now create my own templates and visual elements thanks to Mireille's foundational teaching. Mireille encourages and inspires – gently guiding and adding her own suggestions, showing how all of us can convey information in a clear visually impactful way."
communication trainer & coach, The Netherlands

PARTICIPANT VISUAL EMPATHY TRAINING
"Mireille's contributions to me started when I first contacted her and she took the time to listen to my needs. She helped me feel completely welcome to follow her Visual Facilitation training (bypassing the belief that I didn't have enough skills). In just 5 online sessions, she taught me how I can enhance my work as trainer by sharing information, demonstrating her work, and giving highly interactive feedback. Recently, one of my workshop participants (who knew me from a previous course) said, "Your new visuals bring the information across with much more clarity," which helps me know Mireille's training was a very effective investment."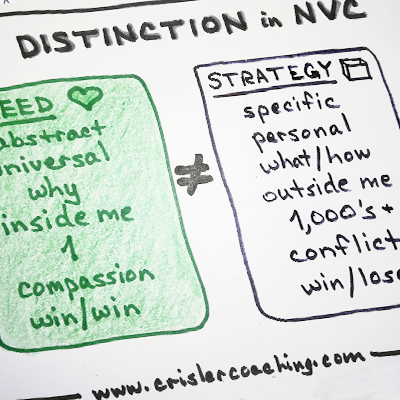 communication trainer, Washington State, USA

PARTICIPANT VISUAL EMPATHY TRAINING
"From the very beginning, I was taken by Mireille's enthusiasm, talent and passion. Also evident was how well planned and thought out her course was. I felt supported and encouraged as I learned from each lesson. She modeled the lesson and then invited us to create with her. In this way, Mireille's claim, "You don't have to be an artist to do this!" was substantiated!
In this course Mireille has been remarkably generous in sharing her years of experience. She has left me wanting more and I will be looking for the next chance I get to take a class from her."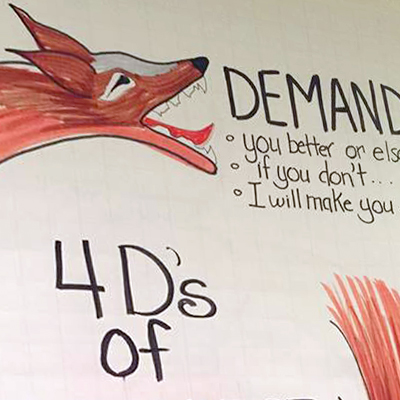 Certified Nonviolent Communication trainer, France

PARTICIPANT VISUAL EMPATHY TRAINING
"I appreciate your simplicity, clarity and your visual clarity. Thank you for your patience!"
trainer & coach, The Netherlands

PARTICIPANT VISUAL EMPATHY TRAINING
"I highly recommend Mireille for her teaching and coaching skills in visual facilitation. In the live training she helped me realize that there is something like: a visual language! And I discovered, that I wasn't aware of it, allthough I used some illustrations in my trainings. In a one-on-one coaching session afterwards, she helped me see and understand more of it by giving me helpfull feedback to the visuals, (flyers and flipcharts) that I had made after the training. I experience her as not only very good in visuals, but also very empathic and clear in her communication."
facilitator, The Netherlands

visual meaningmaker, The Netherlands

a collaborative trainer with BayNVC
Nonviolent Communication trainer, California, USA

PARTICIPANT VISUAL EMPATHY TRAINING
"Finally a break through on early 'teachings' not to draw! A rich toolkit and invitation to explore the interplay of images, words and concepts. Mireille's engaged interest in these interplay's kept me involved through the 2 days. Come have a ball!"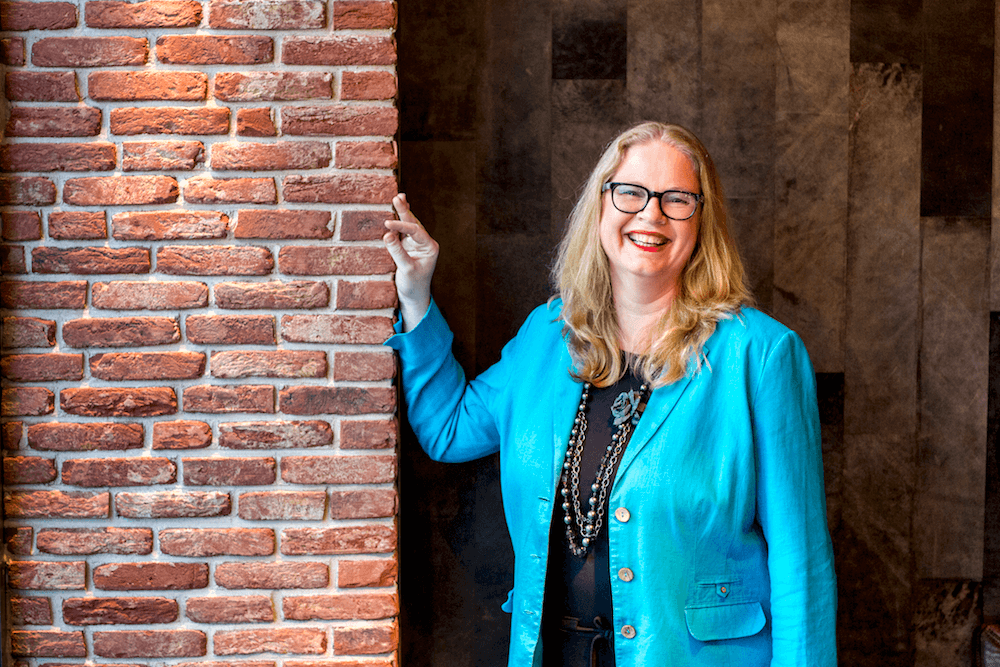 "Before I started using Mireille's graphic recording service, I had a hard time translating my offer into a visual image. I wasn't sure if I delivered enough results in my webinar and after seeing the images of Mireille, I felt in every fiber of me, that my webinar was super valuable. After that I used the images in my marketing, which made it much easier for me to receive sign ups for my webinar.
I recommend Mireille, because she makes a very professional visual report of the webinar. The content of the webinar is clear at a glance and the results are made visual. The material is also of a very high level and you can use directly in your marketing. Mireille is also a very nice personality to work with. Besides she also advises you how to apply the content created and comes with surprising approaches and possibilities.
I can definitely say this helped me to easier get more clients and that it is an important part of the development of my company's to make my materials visual as well. Now everything comes together and I can communicate much better and convince people of my message."
Certified Nonviolent Communication trainer, France

PARTICIPANT VISUAL EMPATHY TRAINING
"I was longing for renewal of my pedagogy, improvement of my creativity after 20 years of transmission and really got new input! I let go of my beliefs about creativity and am stimulated to reflect about my transmission. Mireille makes drawing really accessible. Thanks for your generosity."
trainer & coach, Slovenia

PARTICIPANT VISUAL EMPATHY TRAINING
trainer & coach, California, USA

"I was wrestling with how to help my potential clients understand the value of my leadership program and then make a decision about whether to join. Many expressed interest but then did not commit to what I know would have been a valuable program. Mireille helped me understand what conversations I needed to have and how to have them – in my way, on my terms, rather than following a formula that would not feel authentic for me. My conversations with potential clients have been different since we worked together – I have been less hesitant, more capable of showing the value and asking for a decision from interested potential clients. I anchor myself clearly in the beauty and value of what I am bringing into the world. I felt Mireille saw that, respected it and met me in my own uniqueness. Thank you!"
Certified Nonviolent Communication trainer, Belgium

PARTICIPANT VISUAL EMPATHY TRAINING
"I am always attracted to workshop in which visuals are used. Through them and their beauty, the learning process is stimulated and makes the content easier to remember for the audience. It is a pleasure to me to be able now, to effectively use this aspect in my own workshops. I feel very happy and grateful that Mireille specifically chooses to visually support Nonviolent Communication workshops and simultaneously increases the impact by training visual facilitation skills to trainers."
Certified Nonviolent Communication trainer, Romania

PARTICIPANT VISUAL EMPATHY TRAINING
It's been nine months since I have took the "Design Your Own Flipchart Series" Online Course, and now I can see fully its long-term benefits.
This course created a very big shift in my abilities and trust to express my ideas through drawing flipcharts that would support both me and the participants. I went from writing horribly on a flipchart to having the ability to create something clear, simple, structured and at the same time authentic. And I get lots of positive feedback from my participants.
I want to emphasize that I don't know to draw at all, and this is not a requirement in order to create a clear and helpful flipchart. [This being said, I would like to improve my drawing abilities]
The structure of the course and the information helped me in staying engaged and learning continuously. Not too much info, not too little, and very many practical exercises.
I particularly enjoyed Mireille as a trainer, especially the personalised feedback and attention that we all got from her. I had the perception that she is really interested in supporting us in custom ways, depending on what we want to accomplish and what we want to learn.
I higly recommend her to anyone who wants to use flipcharts or any other visual support as a way of improving their trainings!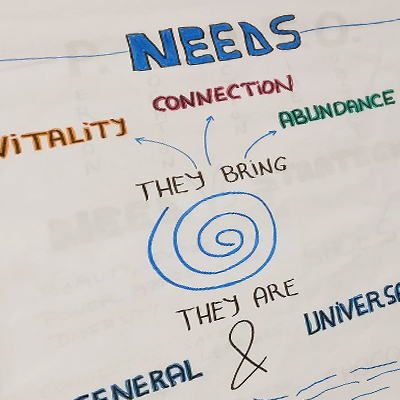 trainer for Neuro Linguistic Programming, Slovenia

PARTICIPANT VISUAL EMPATHY TRAINING
"Mireille has inspired me in a one day training and showed many possibilities to use visual language. I will definitely will use this new knowledge when making presentations and also in my work. Thank you and for sure our path will cross again."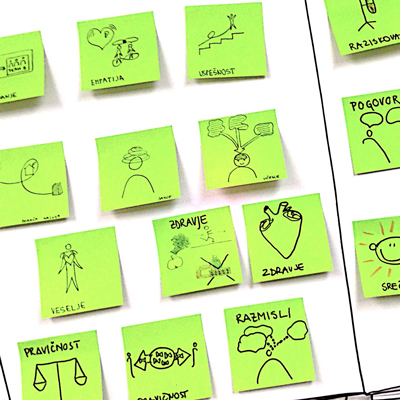 Certified Nonviolent Communication trainer, France

PARTICIPANT VISUAL EMPATHY TRAINING
"A training that allows everyone to have fun drawing. Thank you for your passion and all you offer with from your heart."

trainer, teacher & facilitator, California, USA

PARTICIPANT VISUAL EMPATHY TRAINING
"Mireille empowered me and others with essential techniques for increasing engagement & clarity with intentional visual creations, flipcharts & templates. I so enjoyed her flow and inspirational capacity to capture meaning of abstract and concrete content with precision. Her clarity & facilitation allowed me to relax, play and learn. Thank you!"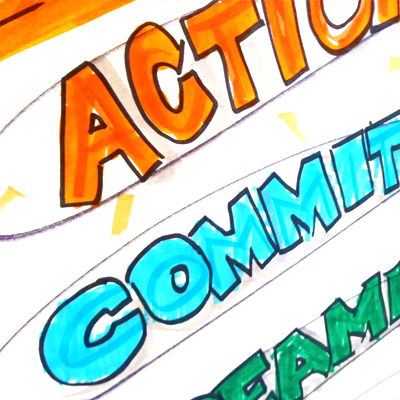 Certified Nonviolent Communication trainer, France

PARTICIPANT VISUAL EMPATHY TRAINING
"I liked so much the way Mireille teaches with clarity and generosity. She gives all the tools we need, with details and step by step. It is extremely helpful. A lot of gratitude."
Inclusive Leadership Co-founder, Vancouver Island, Canada

PARTICIPANT VISUAL EMPATHY TRAINING
"Mireille is combining and integrating two fields of practice that often don't interact: Visual Facilitation combined with Nonviolent Compassionate Communication creates visual empathy or listening and communicating with our eyes as well as our ears and hearts. I have been a clinical psychologist and compassionate communicator for over 30 years. With Mireille's guidance I was able to listen and express myself with a clarity and depth of understanding that was creative, transformation, life enriching and joyful. All I learned in 10 short hours will be so useful and clarifying, enriching and deepening the courses I teach and the groups I facilitate."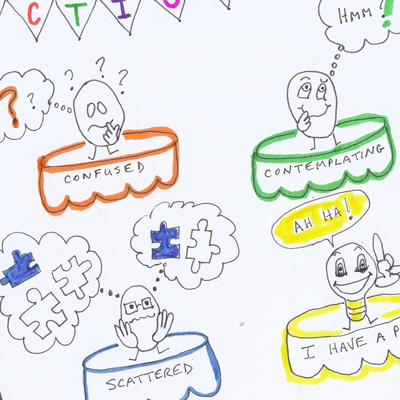 film producer, Switzerland

"With her history as the Head of Design in a Slovenian Advertising Agency and thorough training in Nonviolent Communication, Mireille van Bremen stepped in for me as the ideal coach. By gentle guidance and giving me the space for my own process, our work in four sessions over a period of two months, supported me in making an important step in my career. I appreciate her understanding of my work within the creative industry, while being able to hear me totally judgement-free. She guided me through a process with concrete steps and action-plans, far beyond standardized "business-coaching" models. This helped me, to follow through a change process and to set free resources, that I could not access enough before being coached by her."
Meridian and Energy Therapist, Ireland
"I can highly recommend Mireille. Having had the pleasure of some empathy sessions. She listens with a lot of presence and compassion. It really served me – how she listened helped me to self connect, becoming clearer about what was actually going on for me. Through her empathic presence, I was able to reach much more clarity on how to move forward."
Director of Center for Building a Culture of Empathy, California, USA
"Mireille offered empathic listening and role playing for me to deal with my writers block. She offers a uniquely warm, caring and creative presence that supported me in beginning to work thought and positively transform this issue. I feel that anyone would benefit from her services and I would highly recommend them to anyone."
Certified Nonviolent Communication, France

PARTICIPANT VISUAL EMPATHY TRAINING
"Thank you for your passion and understanding of how we learn."
Certified Nonviolent Communication, France

PARTICIPANT VISUAL EMPATHY TRAINING
"Thank you for creating variety in learning and your passion."
Certified Nonviolent Communication, France

PARTICIPANT VISUAL EMPATHY TRAINING
"Thanks a lot for your clarity and generosity of learning material."